Suppositories Fitoleum Sandthorn with Kyzylmay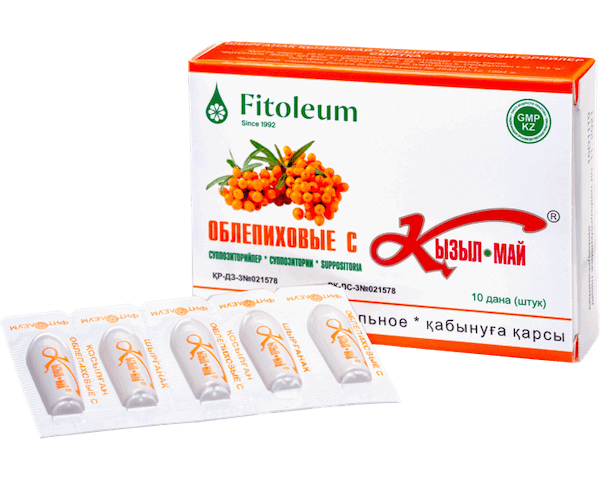 7 medicinal herbs + sandthorn
100% natural product
For women and men
Clinically proven effectiveness
Can be used during pregnancy and lactation
Made in Kazakhstan
Suppositories Fitoleum Sandthorn with Kyzylmay – suppositories for rectal and vaginal use, the active ingredient of which is Fitoleum Kyzyl May polyphyto oil (a herbal remedy) and sandthorn.
The therapeutic effect is provided by a combination of Fitoleum Kyzyl may oil, sandthorn oil and suppository substances (beeswax, consisting of more than 15 chemically independent components, as well as the base of cocoa butter).
Read more
Composition
Release form
10 suppositories
The original technology of production of suppositories Fitoleum Sandthorn with Kyzylmay allows you to extract and preserve biologically active components, and provide: anti-inflammatory, regenerating, wound healing effect.
Sea buckthorn oil in the composition of suppositories has a regenerating and wound-healing effect.
Due to this, suppositories Fitoleum Sandthorn with Kyzylmay can be used as part of combination therapy:
For gynecological diseases
Cervical erosion, colpitis, vaginitis, endocervitis.
For urological diseases
Cystitis, prostatitis.
For proctological diseases
Hemorrhoids, anal fissures, colitis, enterocolitis, proctitis.
It is a medicinal product.
Registration number
РК-ЛС-3№021578.
The official manufacturer of suppositories Fitoleum Sandthorn with Kyzylmay:
Reviews
Very cool suppositories. I was suffering from erosion. For 6 months nothing bothers me after application. I recommend.
– Asya E.
Your suppositories have helped me so much during pregnancy and after pregnancy. Thanks! Plus it's not an antibiotic. Аnd they are much cheaper than those that the doctor advised me. For 2 days I got better and the hemorrhoids disappeared.
– Amangul
Even professors and PhD in Moscow recommend your suppositories in the cancer center ! I was very surprised and at the same time proud of our domestic product.
– Lyazzat K.
Your feedback
is the best gratitude and motivation to improve
Write your feedback, questions and suggestions in our social networks:
@fitoleum
Suppositories Fitoleum Sandthorn with Kyzylmay Instruction
Indications for use
As part of complex therapy for
gynecological diseases – cervical erosion, colpitis, vaginitis, endocervitis
urological diseases – cystitis, prostatitis
proctologic diseases – hemorrhoids, anus frissure, colitis, enterocolitis, proctitis.
Method of application and dosage
Suppositories are used vaginally and rectally. Prescribe 1 suppository 1-2 times a day, depending on the degree of the disease. The course of treatment is 7-10 days.
Side effects
In rare cases: itching, burning, hyperemia. With the appearance of adverse effects and other reactions, the drug should be discontinued.
Contraindications
Increased individual sensitivity to the drug components.
Children and adolescents under 18 years.
Drug interactions
Do not determined
Special instructions
For children:
No experience of using the drug in pediatric practice.
Pregnancy and lactation period:
The drug can be used by pregnant and lactating women.
Feature effect on the ability to drive vehicles and potentially dangerous mechanisms:
Overdosage
Does not identified.
Storage conditions
Store in a dry place at temperature not exceeding 18°С. Keep out of reach of children!
Expiration
2 years. Do not use after expiration date.
Pharmacy purchasing terms
Available without prescription.
Where to buy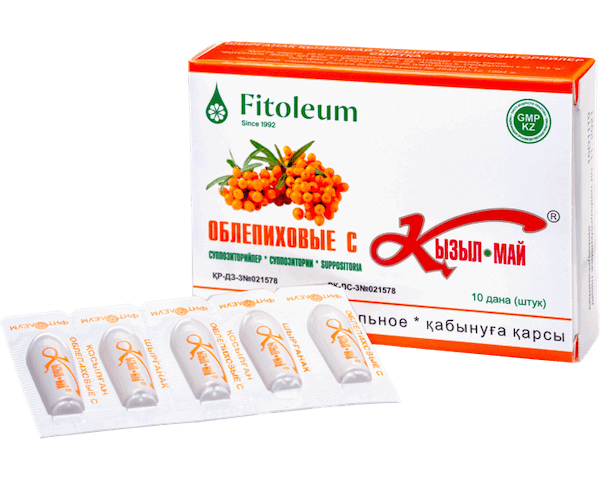 Ask for suppositories Fitoleum Sandthorn with Kyzylmay in pharmacies of your city (in Kazakhstan)!
We do not deliver medicines.
List of online pharmacies:
kz.apteka.com (All regions)
gippokrat.kz (Nur-Sultan, Karaganda)
europharma.kz (Almaty, Nur-Sultan, Aktobe, Aktau, Ust-Kamenogorsk, Karaganda, Kyzylorda, Uralsk, Taldykorgan, Taraz, Shymkent)
Price
The price range for suppositories Fitoleum Kyzylmay is 700-1100 tenge, depending on the pharmacy and the city (in Kazakhstan).
You can find out the exact price at a particular pharmacy by following the links above.
Why Fitoleum?
The company Fitoleum is the first manufacturer of the original medicinal product - Kyzyl may oil.
For 28 years in the market of Kazakhstan. Millions of packages sold and hundreds of reviews and thanks from our dear customers.
The company's products undergo clinical trials, have a 100% natural composition, without preservatives and dyes.
The production is located in the ecologically clean foothills of the Trans-Ili Alatau in the city of Esik.
The company operates according to the GMP standard (Good manufacturing practice). We guarantee the safety and quality of our products!
We are moving towards full-cycle organic production, ensuring continuous improvement in the quality of our products.