Sandthorn with Kyzylmay suppositories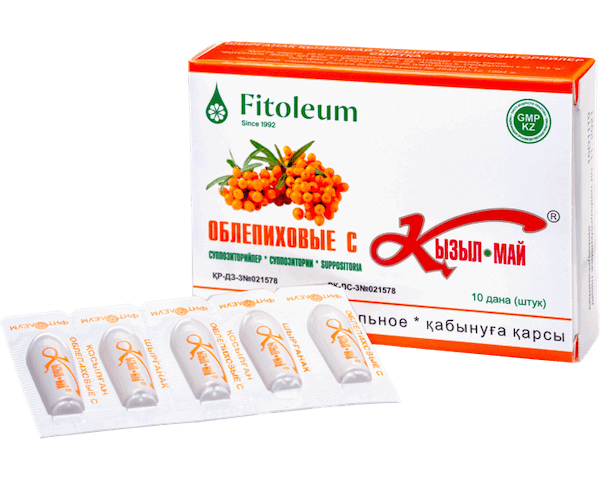 Аnti-inflammatory, regenerating, wound - healing effect.
Sandthorn with Kyzylmay suppositories – are original medical products with active ingredient of polyphyto oil Kyzyl may of plant origin and sea buckthorn oil. It consists of sea buckthorn oil, which has anti-inflammatory, analgesic, wound – healing, antimicrobial effect, stimulates regenerative processes in damaged tissues. Combination of the agents of sandthorn suppositories with Kyzyl may: beeswax, comprised of more than fifteen chemically separate components, and cocoa butter represents the therapeutic ingredient of suppositories.
Gentle effect of the above-mentioned components of the drug without any side effects, as well as wax, resembling the smell of honey, will always help you in the treatment of: gynecological diseases (cervical erosion, coleits, vaginitis, endocervicitis), urological diseases (cystitis, prostatitis), proctologic diseases (hemorrhoids, anal fissures, colitis, enterocolitis, proctitis).
Composition
Sandthorn with Kyzylmay suppositories
Indications
In complex therapy:
gynecological diseases – cervical erosion, colpitis, vaginitis, endocervitis
urological diseases – cystitis, prostatitis
proctologic diseases – hemorrhoids, anus frissure, colitis, enterocolitis, proctitis.
Dosage and Administration
Suppositories are used vaginally and rectally. Prescribe 1 suppository 1-2 times a day, depending on the degree of the disease. The course of treatment is 7-10 days.
Side effects
In rare cases: : itching, burning, hyperemia. With the appearance of adverse effects and other reactions, the drug should be discontinued.
Contraindications
Hypersensitivity to the drug components
children and adolescents under 18 years
Drug interactions
Do not determined
Special instructions
Pediatric administration:
No experience in the administration of the drug in pediatric practice.
Pregnancy and lactation period
The drug can be used by pregnant and lactating women.
Feature effect of the drug on the ability to drive vehicles and potentially dangerous mechanisms:
Does not affect
Overdosage
Does not identified
Storage
Store in a dry place at temperature not exceeding 18°С. Keep out of reach of children!
Expiration
24 months. Do not use after expiration date.
Pharmacy purchasing terms
Available without prescription.
Manufacturer
FitOleum LLP, Republic of Kazakhstan
Almaty region, Esik city, Mametova street, 25
fax number 8 (727) 297-27-00, 8 (727) 297-27-01, 8 (727) 297-29-36, 8 (72775) 7-25-18
Registration certificate holder
FitOleum LLP, Republic of Kazakhstan
---
Why Fitoleum?
The company Fitoleum is the first manufacturer of the original medicinal product - Kyzyl may oil.
For 28 years in the market of Kazakhstan. Millions of packages sold and hundreds of reviews and thanks from our dear customers.
The company's products undergo clinical trials, have a 100% natural composition, without preservatives and dyes.
The production is located in the ecologically clean foothills of the Trans-Ili Alatau in the city of Esik.
The company operates according to the GMP standard (Good manufacturing practice). We guarantee the safety and quality of our products!
We are moving towards full-cycle organic production, ensuring continuous improvement in the quality of our products.