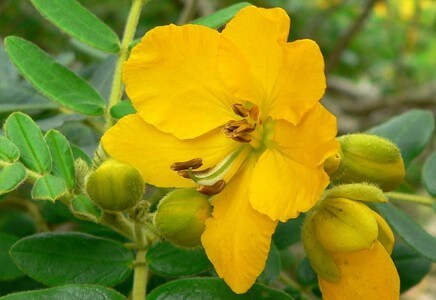 Senna leaves are also known as cassis or Alexandria leaves. It was brought to tsar Russia through Alexandria port, so the name – Alexandria leaves – appeared accordingly.
Senna belongs to Leguminosae – pea family. It grows wild in arid and semiarid regions of Africa. It is also planted in dry subtropics: South China, India, Africa, Arabia, Uzbekistan, Tajikistan and Turkmenistan. It is thermo philic shrub up to1m height. The leaves are pinnate, lanceolate, pointed. It flowers from late June until the fall. The flowers are yellow. Berries are broad beans, slightly bent, flattened, light brown, have dark outlined seed chambers.
Senna leaves effect positively colon's motor function, thus it is used as a laxative and cholagogue aid. It is used as infusions and decoctions in hemorrhoids, anal fissures, in certain diseases of liver and gallbladder. Medicinal plant's properties are effective in acute conjunctivitis, pyoderma and various skin conditions.