Fitoleum Burdock oil with red hot pepper extract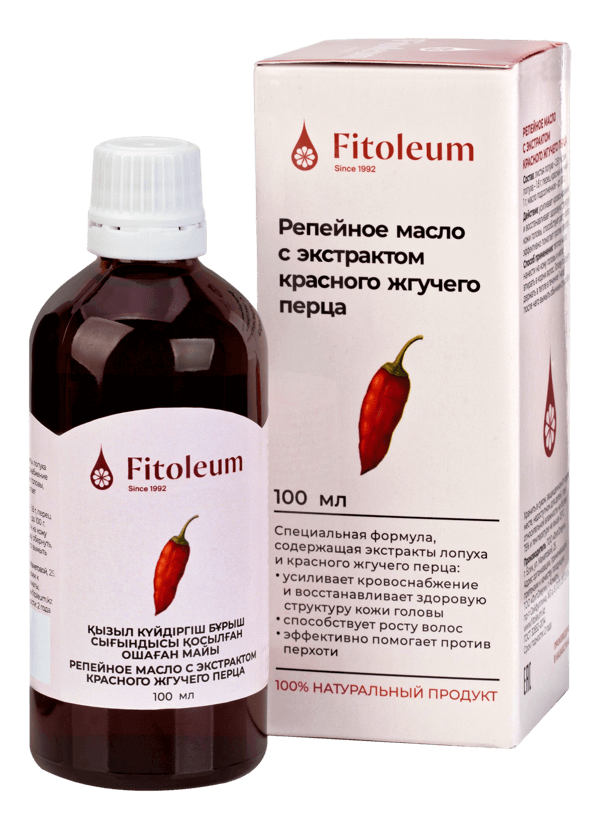 100% natural product.
No preservatives or colorants

Strengthens blood circulation and restores the healthy structure of the scalp

Promotes hair growth

Effectively helps against dandruff

Made in Kazakhstan
Burdock oil contains natural inulin, protein, essential and fatty oils (palmitic and stearic acids, tannins, mineral salts and vitamins). It is a unique herbal activator, which has a beneficial therapeutic effect, containing no preservatives, flavors, dyes.
Believe it or not, the unattractive at first glance, plant that we used to consider a weed, is a real depositary of biologically active substances, and they are contained in fantastically high concentrations. They are polysaccharide of inulin (up to 45%), essential (ether) oil (up to 18%), proteins (app. 12%), salts of potassium, calcium, magnesium, fatty acids, sulfur-containing compounds, tannins, flavonoids, iridoid glycosides, polyacetylene hydrocarbons, sitosterol, stigmasterol and bitter sesquiterpenic lactone.
Biologically active substances of red pepper have an irritating effect activating blood circulation and increasing nutrient enrichment. Warming feature of red pepper is useful for people suffering from poor circulation.
Read more
Composition
* plants are collected in ecologically clean areas of the TRANS-ili Alatau during the maximum accumulation of pharmacologically active substances.
Release form
100 ml
Special formula contains extracts of burdock and red hot pepper that:
increases blood circulation,
nourishes and protects hair,
restores healthy structure of the scalp,
prevents the formation of dandruff,
improves the structure of nails.
For external use only.
Reviews
Our product has no reviews yet. We will be very grateful if you share your experience of using this particular product.
You can see reviews for other products of our company at the link below.
– Fitoleum
Your feedback
is the best gratitude and motivation to improve
Write your feedback, questions and suggestions in our social networks:
@fitoleum
Fitoleum Burdock oil with red hot pepper extract Instruction
Mode of application
Apply warm oil to the scalp and rub gently into the hair roots. Wrap the head with plastic wrap and a towel for warming. After 40-90 minutes, wash your hair in the usual way.
Contraindications
Individual intolerance, hypersensitivity to the components of the product.
Storage conditions
Store in a dry, dark place, out of the reach of children, at a relative humidity of no more than 75% and a temperature of no higher than 25 °C.
781
Why Fitoleum?
The company Fitoleum is the first manufacturer of the original medicinal product - Kyzyl may oil.
For 29 years in the market of Kazakhstan. Millions of packages sold and hundreds of reviews and thanks from our dear customers.
The company's products undergo clinical trials, have a 100% natural composition, without preservatives and dyes.
The production is located in the ecologically clean foothills of the Trans-Ili Alatau in the city of Esik.
The company operates according to the GMP standard (Good manufacturing practice). We guarantee the safety and quality of our products!
We are moving towards full-cycle organic production, ensuring continuous improvement in the quality of our products.