Burdock oil with red hot pepper extract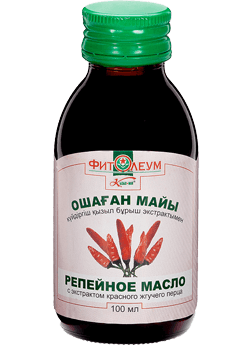 It nourishes and protects hair, restores the healthy structure of the scalp, prevents dandruff.
From ancient times burdock root is known as an effective remedy:
to enhance hair growth,
against hair loss,
against dandruff and seborrhea,
to improve the structure of nails.
Burdock oil contains natural inulin, protein, essential and fatty oils (palmitic and stearic acids, tannins, mineral salts and vitamins). It is a unique herbal activator, which has a beneficial therapeutic effect, containing no preservatives, flavors, dyes. Burdock oil without additives, as well as in combination with other herbal ingredients is an effective treatment and cosmetic product, which is widely used in this area. Surprisingly, but: Surprisingly, the unattractive at first glance, plant that we used to consider a weed, is a real depositary of biologically active substances, and they are contained in fantastically high concentrations. They are polysaccharide of inulin (up to 45%), essential (ether) oil (up to 18%), proteins (app. 12%), salts of potassium, calcium, magnesium, fatty acids, sulfur-containing compounds, tannins, flavonoids, iridoid glycosides, polyacetylene hydrocarbons, sitosterol, stigmasterol and bitter sesquiterpenic lactone.
Red pepper is the active ingredient of Cayenne pepper. Biologically active substances of red pepper have an irritating effect activating blood circulation and increasing nutrient enrichment. Warming feature of red pepper is useful for people suffering from poor circulation.
Presentation:
Special formula contains extracts of burdock and red hot pepper. Complex of biologically active substances increases blood circulation. Restores healthy structure of the scalp. Stimulates hair growth. Effective against dandruff.
For external use only.
Composition
---
Why Fitoleum?
The company Fitoleum is the first manufacturer of the original medicinal product - Kyzyl may oil.
For 28 years in the market of Kazakhstan. Millions of packages sold and hundreds of reviews and thanks from our dear customers.
The company's products undergo clinical trials, have a 100% natural composition, without preservatives and dyes.
The production is located in the ecologically clean foothills of the Trans-Ili Alatau in the city of Esik.
The company operates according to the GMP standard (Good manufacturing practice). We guarantee the safety and quality of our products!
We are moving towards full-cycle organic production, ensuring continuous improvement in the quality of our products.